I created my first website some time in the late 90s. And it looked something like this: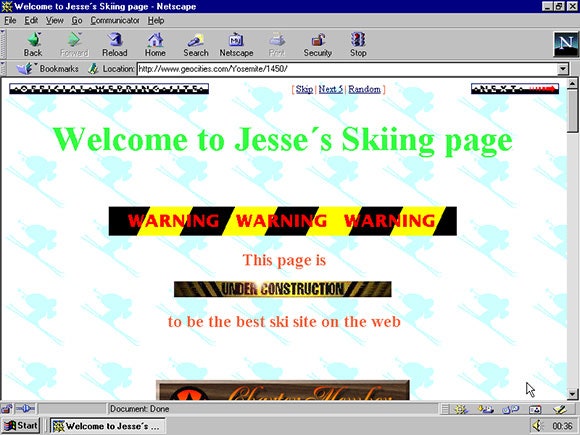 …Needless to say, website development has come a long way.
Being somewhat self-aware I hope, I no longer build websites. However, I am fortunate to have a great team of developers that produce award-winning websites for banks, credit unions, and financial technology companies. Having led strategy and development for numerous financial websites, I understand how important this virtual storefront is to a brand and its success. Despite all of the channels where our clients and prospects spend their time today, your website remains the most important first impression and has quickly become the most important destination for converting a prospect to a customer or member.
The website project is often the first "stamp" a new marketing leader makes on his or her company. It can be a long and draining project with many stakeholders and moving parts. And sometimes the results are less than ideal. The pitfalls that lead to messy, stressful website redesigns and a frustrating "patchwork" post-launches are avoidable. But, it takes a good plan and partner.
What leads to an effective launch? There are many important steps in an effective website development project: early and intentional strategic planning, thorough sitemapping, effective communication on milestones, timely inclusion of stakeholders, efficient punch lists, launch planning and clear rollouts. And that just helps get the project done. What about the site design, development, performance, and effectiveness?
Seven Keys To Design, Development, and Website Performance
Here are SEVEN keys to design, development and performance that you may want to focus on as you evaluate your next redesign.
Varied Navigation : Navigational choice is one of the most important elements in an effective website today. Your website traffic already skews toward one activity; about 90% of your visitors hit the homepage and login to online banking. So what are you going to do to get the most of out the remaining 10% of traffic? Or potentially influence some of that 90% to look into your offerings further? Moving your site beyond "main nav product stuffing" is important. People don't think about financial products like bankers think about financial products and your navigation doesn't have to fall back on tired web design techniques.
A CMS For The People : Evaluating your CMS functionality and your prospective agency's approach to backend CMS development is critical. WordPress, Drupal, and a host of proprietary CMSs are available, but not all are customized with the end user in mind. You should be able to update banners, change body and header copy, embed or alter basic forms, and even create template landing pages if your agency builds the backend appropriately. You'll save a lot of money on costly change requests over time.
End-to-End Tracking : Analytics, advertising pixels, conversion events, and automation tracking are important scripts and system setups today. However, the setup of end-to-end tracking is consistently one of the most mismanaged aspects of website projects. Programmers and designers are often not focused on the various marketing tools and visibility you want.
Enhanced Accessibility : Not only should your site be ADA compliant, but you can improve your site with new features like "dark mode" and continue to establish your level of care in the digital world to align with your level of care in the physical world.
Search Engine Optimization : Keyword opportunity discovery, onsite changes, enhanced content and Google AMP development are opportune pillars of an effective website project. But many companies do rushed audits to fix basic technical errors, leaving opportunities for true organic search gains on the table.
Movement : Adding motion to a website is a balancing act. You may employ moving imagery or video elements. Or you may hear your agency use terms like "parallax scrolling" to describe programming techniques that create the illusion of movement on pages. However you deploy motion, it should be well thought out, as it has implications for site speed, SEO, and overall user experience. When used correctly, it genuinely changes the way people interact with your website and deepens their engagement.
Adjustable Landing Pages : Creating flexible landing page templates for marketers to quickly respond to crisis or market opportunities is a must-have feature of your new website and CMS. A marketer should not have to rely on an agency each time they want to create landing pages. It's a waste of time and money and limits your ability to react to rapid change.